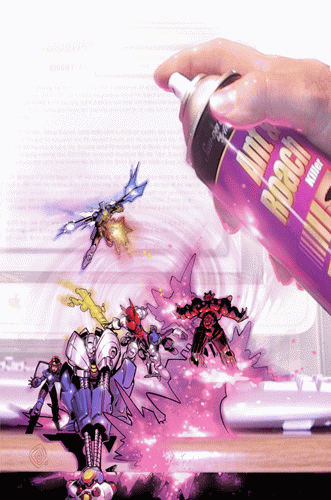 above: the cover to Micronauts #5 by Chris Bachalo
Dana Moreshead, who is working as a creative consultant to Ken Abram's Character Vision on the Micronauts property, has passed along this nice tidbit of info concerning the recent rumors of the cancellation of the Micronauts comic book: (as of 5/29/04):
"By all accounts, there will be a Micronauts #5. After issue 3, Devil's Due is taking a month to get caught up on the schedule. So, issue 4 will be out the following month, and 5 after that." Along with this good news, Dana has scored a coup with securing a cover for #5 by the one and only Chris Bachalo (of X-Men, Captain America and Steampunk fame).
So how did Dana get Chris on the cover? "Sigh…I begged him. (laughter) To me, Chris has always been in a bizarre way the heir-apparent to Michael Golden. I've known Chris since 1993 -- he did a lot of work for me when I was at Marvel" (from about 1990 to 1999 Dana worked at Marvel as head of creative services) "so Chris and I have worked together forever. I had been bugging Devil's Due to get some "star power" on the covers to help bump sales. The minute we got the green light I called Chris. Bachalo was a big fan of the old Micronauts, especially the Golden covers. I told him he could do "whatever he wanted." It's Chris…he's doing us a favor…and I lucked out."