Of course, Abrams' intuition was spot on and Microman was already a huge success in Japan. The toys were ostensibly miniature versions of Takara's popular 12-inch Henshin Cyborg figures. Vehicles, play sets, and an enormous variety of action figures had already flooded Japanese shelves, so when Abrams opted to bring the toys to the US, he had an entire universe of product from which to choose.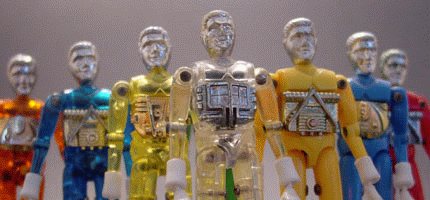 Mego renamed the toys Micronauts, and they became an instant hit in America. In fact, the line accounted for almost 1/3 of the company's total sales in 1977. The first assortment of Mego's Micronauts heroes included Time Traveler and the heavy-duty die-cast Space Glider. Seven different vehicles were also released, such as the missile-launching Galactic Cruiser and the wind-up Warp Racer. Battery operated toys, from the Hydro Copter vehicle to two different robots, the 13-inch tall Biotron and his smaller companion Microtron, were a big hit with kids. An enormous play set called the Stratastation rounded out the first series.
Asked about the initial appeal of the Micronauts, Abrams is quick to respond. "We combined two great play patterns: action figures and construction/building sets," he says. "If we were able to sustain it past the Star Wars explosion, the Micronauts would have been one of the great toy lines of all time and certainly the greatest action figure line of all time."
Even with the amazing pre-existing designs and cool hybrid concept, Mego had to continually evolve the marketing of the line by adding innovative products. For the second series, an astonishing 12 new pieces were introduced. A new hero named Pharoid hit shelves along with an enemy called Acroyear II. Two larger die-cast characters from another Takara toy line were also plucked by Abrams and woven into the Micronauts' offerings. These two characters were the evil Baron Karza and the heroic Force Commander.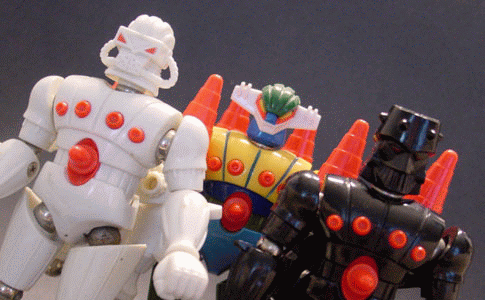 Both characters featured magnetic interchangeable parts, which proved to be an extremely popular gimmick. Five new vehicles were also added to the second series: the die-cast New Orbiter, Rhodium Orbiter, and Thorium Orbiter, the all-plastic Aquatron (made for the bathtub) and the vastly intricate Battle Cruiser. Combining 70 different pieces, the Battle Cruiser is easily the most complex Micronaut toy. This time around, the manufacturing of the Micronauts was actually handled by Takara. Abrams notes, "Once [Takara] established the manufacturing side…since they already had the tools, we would let them build small amounts of product. We would take the most successful product, ship them out of Hong Kong, and then duplicate the tooling."