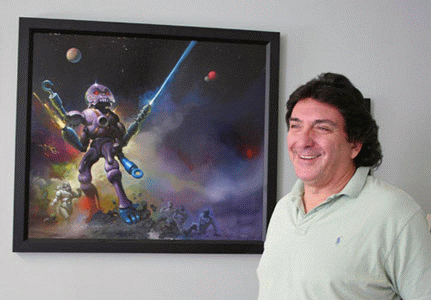 MEGO's Marty Abrams and the original Antron painting
Tomiampos vividly remembers the day that another old-school toy collector told him someone had the original Membros art for sale. He says, "I think it was selling for around $1,850. I contracted the seller and told her if her initial deal feel through (there was another interested buyer), I would be willing to pay that price that she would let me have it." Tomiampos continues, "This person had purchased the paintings from Ken Kelly when he was still an upcoming artist. After she agreed to sell me the Membros, I asked her if she owned any of the other Micronauts paintings. She informed me that she owned seven of the original eight pieces, buy really didn't want to sell anymore of them, the Terraphant being her favorite."
Eventually, she did break down and let them go. This dealer's only wish was that the paintings would go to a good home and that they'd remain in a set; of course Tamiampos had displayed these treasures with all the pride of a brand-new parent. "If I ever would consider selling them," he said assuredly, "I would only sell them as a set and to a good home too. I've had an offer as high as $70,000, but don't want to part with them. IF the Smithsonian of the Museum of Art in D.C. wanted them, I would most likely donate them so that everyone could enjoy them." Tamiampos has also generously lent the paintings to be photographed for the 2002 Hero Factory Micronauts card set. Still, even with all seven of the masterpieces in one place, the Antron painting was nowhere to be found. Just where in the world was the very first and oft considered best paintings in Kelly's series? The answer, it seems, was to be found in the darkest depths of the Abrams family home.