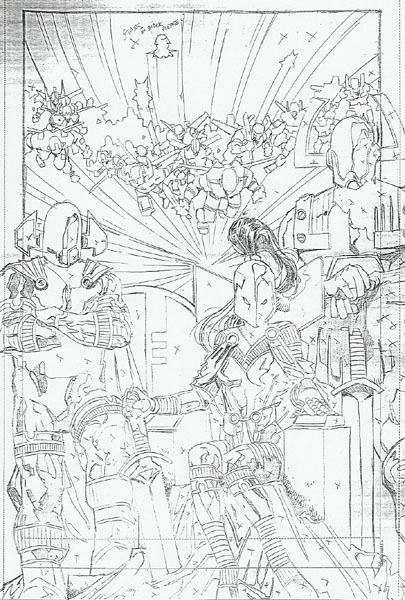 image from issue #3 page 32
ISO: So a lot of story would have taken place in the Microverse and on Homeworld. Would your Micronauts have ever traveled to Earth and interacted with the "big" people?
SB: No, absolutely not. As a matter of fact at the end of the third issue one of the things I did by way of defeating the K'Lar, was have this psychic wall wrap itself around the Microverse and seal it permanently. And the reason why I justified that is because nobody in editorial or me personally wanted to have anything to do with the stuff that went on in the New Voyages. We wanted to completely ignore that 100%, so how do you go about doing that? Well, at the end of New Voyages they all jumped through the Prometheus Pit and they are reborn, right? So I thought that would be a perfect opportunity, especially since the Marvel universe is all about alternate realities and such, to jump over to the Microverse at say three doors down from where they jumped through the Pit. So basically it was an alternate universe.
ISO: One of Michael Golden's biggest complaints about working on the book was that he was constantly forced to "superhero-ize" it, because if it was a part of the Marvel U, it had to take place in the Marvel U. And that meant adding superheroes. Were you ever a victim of this edict?
SB: No, I was never given those types of directives. It was a totally different type of editorial atmosphere there by the time I was on the book. Really, the only reason why you should be forced to do that is to help sagging sales. Although it does have some logic behind it, it is definitely old school comic logic that may or may not stand up on it's own today. It was unfortunate that they had to go through that cuz every time the Micronauts came into the Marvel Universe they were like 6" tall…
ISO…um, 3 ¾" tall…
SB: …right, right yeah (laughs) it was just ridiculous, although I thought the X-Men/Micronauts crossover was cool, generally speaking within the book itself. But crossovers never worked…and they almost learned their lesson with New Voyages because it was almost straight up "sci-fi", but the dry kind…the space opera was what Michael Golden was hoping for and it was the space opera I tried to bring back with the re-vamp. Touhy was always supportive of anything I did…for instance I had just turned in issue #5's script and I told him it only took me like 4 hours, and his response was "Yeah, never take any longer that 4 hours to write a script, this is fantastic!"
ISO: When you went back and did your research did you have any favorite classic stories? Favorite artists?