ISO: Was there a conscious effort not to use more toy reference in the first parts of the series? I think fans were wanting to see more of that.
Scott: Yes and no. We were trying to harken back more to the Marvel comic than the toys. We (at least I) didn't want to try to make the toy characters cool, because - and forgive me if I piss anyone off here - the toys would've looked incredibly dorky in a comic as is, with no effort to bring them up to today's comic speed. We wanted the ideas of the toy characters to be in the comic, just given a more modern look. There was just this feeling, or maybe need, to cram a lot of things into a small amount of space, and that's where a lot of our troubles began.
Eric: Well, here's the thing: not to sound insulting, but the Micronauts fanbase isn't really large enough to cater a book directly to; unlike, say, Transformers or G.I.Joe. We had every intent though of fitting all those cool toys, or at least elements and variations thereof, into the story, but in a natural story-based way. We were going to make the long-time fans of the old comic and the toys happy, but we needed to draw in new fans first. Get them hooked, introduce them to these cool concepts, and hope that they'd enjoy it just as much as the old-timers. Like the fact that the toys had those cool silver heads...I intended to have liquid-metal like technology that was used for a variety of purposes, not the least of which were cool, form-fitting space helmets (I think they used this later on in the book) but intended for it to have other applications as well.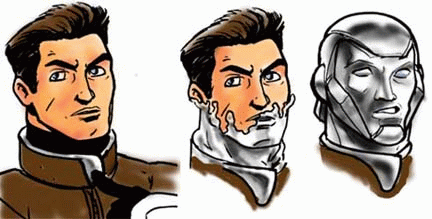 concept art by Eric Wolfe Hanson
The tech of the Microverse was to be totally interchangeable. Buildings and vehicles changing form and swapping parts in a fluid way. The liquid metal was sort of the mortar to the big tech bricks. I meant for this to be something for the fans to dig, but also conceptually integrated into the book so that it just seemed like part of the story to new readers. We had plans for Force Commander, Time Traveler, those cool aliens, etc. But there was so much more to establish at the start. I did say from the very start of production that we should get the "origin" story out of the way quick. I thought that by the end of issue 3 our status quo should be set up. If you can get the groundwork laid out quicker, you can also pull the rug out from under the reader earlier on in the series.