Pharoid
Acroyear ll
Baron Karza &
Andromeda
Force Commander
& Oberon

Giant Acroyear

Rhodium Orbiter
Thorium Orbiter
Neon Orbiter
Aquatron

Battle Cruiser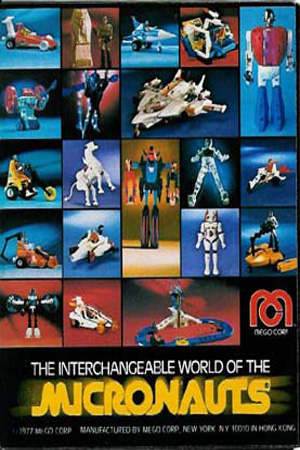 Much like Series 1, this section entitled "Series 2-1977" actually came out about 1978, but the toys bear a 1977 copyright. Some major additions this year, including two new 3 3/4" figures, some heavy duty die-cast vehicles, and the introduction of what would turn out to be another major hit with the Micronauts - the "Magno" figures.
While Pharoid and Acroyear ll were basically Microman figures renamed, the Magnos could be considered actual "new" characters. Still being based on a Takara line of magnemo (magnetically jointed) figures, the introduction of Baron Karza and Force Commander brought in a whole new dynamic to the Micronauts interchangeability factor. Even though these new figures were a bit out of scale with the rest of the line, it didn't make a difference to fans. The larger 8" figures were now labeled the respective leaders of their clans, and with one being "good" and the other "evil", the Micronauts mythos soon were forming.
A few new interchangeable concepts were also introduced this year with the addition of the Micropolis building sets.