Pharoid
Galactic Defender
Centaurus
Repto


Red Falcon


Emperor
& Megas
Gold Red Falcon set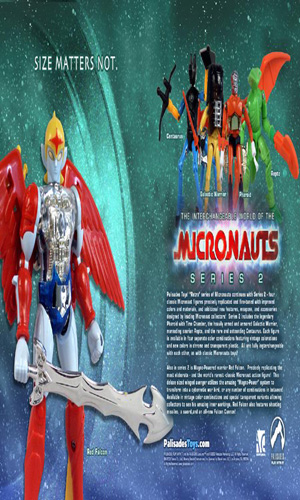 July 2003 saw the emergence of Palisades Toys newest foray into the Microverse…their Retro Series 2 Micronauts figures.
Continuing on with this, the actual third series of vintage reproductions of the classic Mego figures, three new sets of heroes and villains prepared to do battle with each other for space on your toy shelves! Added to this new line-up were some old favorites from the original line, and also some of the more rare finds from the collection, making it a nice combination for collectors everywhere.
Series 2 included another batch of figures with brand new and never before seen color schemes, and a wide array of new accessories specifically designed by collectors for collectors.. The card and packaging colors had also changed to differentiate them from the first two series, purple being Series 1, red for Series 1.5 and then green for Series 2. Unfortunately, with the disaster that was Series 1, production numbers were drasically reduced and this led to the lack of any new cool exclusives that were planned for the new series. There would still be a Palisades website exclusive (Emperor and Megas) and a "gift" exclusive (gold Red Falcon) so all was not lost for the variation fanatics.